Cleveland Bee Removal is a residential and commercial pest exterminator serving the Greater Cleveland area that you can trust to keep stinging insects and other bugs out of your home or business. Our flexible pest control services are designed to offer maximum value and convenience to our customers. We'll set up an inspection according to your schedule and evaluate your property inside and outside to identify and treat key entry points for unwanted critters.
As a locally owned and operated service, we'll respond to your needs in a prompt and professional manner and provide the thorough assistance and results that you deserve. Our professionals have firsthand knowledge of the local weather patterns and environmental conditions, and we have service plans available to protect your property from varying pests throughout the seasons.
Learn About Rick Moranz, Owner of Cleveland Bee Removal Service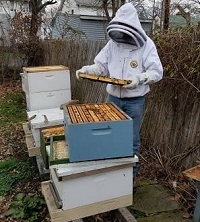 What made you interested in beekeeping?
An old beekeeper friend shared the experience of honey extraction with my family for three years. That third year I got the itch to get my own bees the next spring. That was 13 years ago and I've been keeping bees ever since.
How did you get started in the stinging insect removal business?
I got into live bee removal and relocation 5 years ago after working for a friend in pest control. She called me and needed my help for her company. They didn't do anything with honey bees and had customers with honey bee colonies in roofs, walls, and other places. I took my beekeeping equipment, my home improvement/handyman tools and skills and started rescuing honeybees. It was a niche that needed to be filled. So I started Cleveland Bee Removal Service. I also had to get licensed for pest control so I could take care of all other stinging insects.