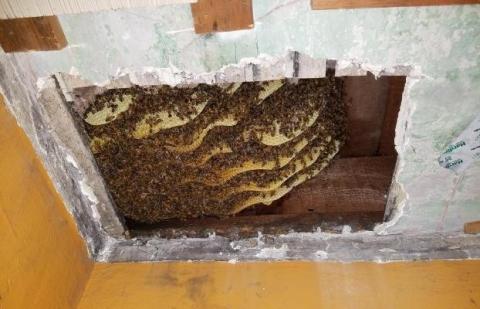 Cleveland Bee Removal is one of the leading bee control services throughout Greater Cleveland. Our company was founded by a professional beekeeper who focuses on live bee removal and relocation to save and protect the beneficial honey bee. Our staff is highly trained and properly equipped to safely remove stinging insects from your home or business in a prompt and professional manner.
Comprehensive Insect Control Solutions
When you hire us to remove stinging insects from your property, we'll thoroughly inspect the area for swarms or nests to identify the extent of your bee problem. From there, we'll develop a plan to quickly remove the bees and make your property safe once again. We have preventative service plans available upon request to redirect bees away from your home and inhibit the infestation from reoccurring.
If you notice a swarm of bees around your property, it's time to call in a professional for assistance. When you turn to Cleveland Bee Removal for help, we'll protect your home or business from stinging insects and remove them in a responsible manner. We're locally owned and operated in Cleveland, OH. Call us today for the highly responsive and thorough bee control service you deserve.